Priority Matrix for Microsoft Teams
All the power of Priority Matrix, inside your favorite communications tool.
Priority Matrix helps you prioritize, focus, and work smarter. Priority Matrix for Microsoft Teams helps you better collaborate with your team, letting you discuss specific tasks with a couple of clicks, driving better meetings with our one-on-one view, and offering all the power of PM, without leaving Teams in any moment. Priority Matrix is the leading Microsoft Teams project management tool in the market.
Create tasks, assign to teammates, discuss issues and conduct effective meetings, all easy and in one place. Get it now for all your team, and start exploring!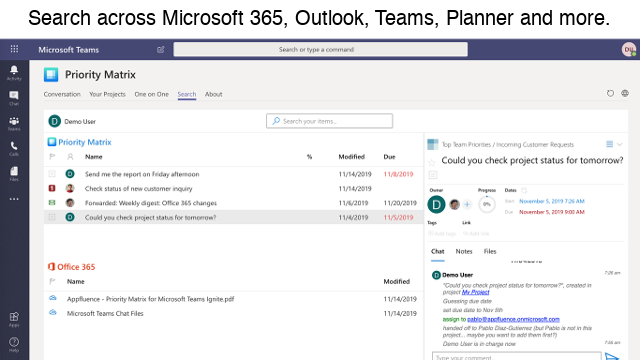 Note: This setup of Priority Matrix HIPAA for Teams is not on the AppSource store. Instead, you need to manually load the app in Microsoft Teams, perhaps with the assistance of your IT staff. If you need help, contact us and we will do our best.
The first time you use the extension you will be asked to sign in, and that's it! If you encounter any issues, please email support@appfluence.com and we will do our best to help!